About phoenixNAP
Data Center. IaaS Solution Provider. Partner.
Global IT Services
phoenixNAP is a global IaaS provider founded in 2009 with a goal to commoditize enterprise-grade technology and make it accessible to organizations of different sizes. For over a decade now, our mission has been to provide outstanding value using state-of-the-art technology and service, while continually improving our technical and human assets.

Not Just a Data Center
When you work with phoenixNAP, you get access to not only our state-of-the-art data center, but also our greatest asset—our people.

Driven to Support any IT Need
The wide portfolio of infrastructure services we offer is designed to help in solving even the most sophisticated IT challenges.
Proven Reliability
Understanding how critical IT is in every company, we strive to build and deliver OpEx-friendly IT solutions that adapt to your goals.






phoenixNAP Story
From a local Network Access Point to a leading interconnectivity hub in Arizona and a global IaaS provider with 15+ data center locations and PoPs across the world.
The phoenixNAP data center opened its doors in 2010, offering state-of-the-art technology to support digital transformation, growth, and innovation in local organizations. Initially, it acted as a Network Access Point (NAP) for Arizona's businesses that were at the time just starting to form their Internet presence.
With the early 2010s being the time of an accelerated web expansion, phoenixNAP soon recognized the need to establish its presence in Europe and support its clients' growth goals. Our Amsterdam data center was established in 2012, providing cross-Atlantic network reach. In the years to follow, we have established a presence in strategic locations across six continents to provide global network coverage, uninterrupted service delivery, and local access.
phoenixNAP's Geo-Presence Today



Parallel to our geographical expansion, we have been growing our service portfolio to accommodate market demands. Working with technology industry leaders on commoditizing enterprise-grade technologies and developing innovative solutions, we built a comprehensive IT service portfolio that can meet any IT need.
Availability. Uptime. Support.
Discover the benefits of working with phoenixNAP
Full Portfolio of Infrastructure Products
phoenixNAP offers a broad portfolio of IT products and services to help you achieve your performance, productivity, and security objectives. Our flexible solutions can be bundled or tailored to meet your specific scalability, compliance, and geographic goals. Backed by our industry leading service level agreements (SLAs) for 100% uptime, security, and environment stability. With so many services and location options from a single provider, you can rely on phoenixNAP to provide you with a full portfolio of infrastructure products to help your business grow.
Solutions Overview:
Colocation HaaS Dedicated Servers Cloud Security Backup & Restore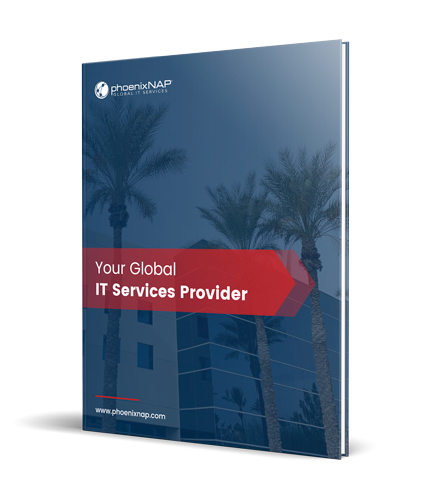 Technology Partners
phoenixNAP works with industry leaders to make cutting-edge technology available to you globally and at affordable prices. Through our solid relationships with companies such as Intel, VMware, Supermicro, and other global brands, we are developing solutions that can meet any IT need.
Developing Innovative Solutions with Intel

As a Next Wave Intel CSP, phoenixNAP continually works with Intel on driving the IaaS market forward. We have also collaborated on developing unique and innovative solutions to meet sophisticated IT demands.
Would you like to talk to an expert?
Get in touch with us and let's see how we can help you meet your goals.