Evaluate Your Cloud Workloads
Sign up for a FREE demo with CloudGenera to evaluate your current cloud spending and discover how you can save on your next bill.
Optimize your workloads. Eliminate cloud waste.

Save on your cloud computing bill by identifying the areas of overspending and optimizing your workload placements! phoenixNAP has partnered with CloudGenera to give you access to a robust cloud analytics tool that helps you visualize your application portfolio and understand your technology usage.
Using advanced AI algorithms, CloudGenera simulates application performance and data usage scenarios, helping you identify workloads that might be wasting your cloud resources. This helps you better understand your digital assets and possible areas for improvement. Apply for our FREE demo today to see the tool in action and discover how you can use it to optimize your cloud usage.
Make informed workload placement decisions with phoenixNAP and CloudGenera.
Sign up today and our sales engineers will show you a demo of the tool.*
Intelligent Analytics
Discover areas of your cloud infrastructure that need to be re-optimized.
Actionable Insights
Get platform and configuration recommendations for specific types of workloads.
Vendor Agnostic
CloudGenera compares multiple cloud service platforms to obtain unbiased data.
* Only qualified applications will be taken into considerations as the resources are limited.
CloudGenera helped a client capture a 49% savings opportunity on one application, that alone represented $8.7 million in annual IT spend.
Mastering Cloud Economics with CloudGenera
Most businesses that have embraced hybrid cloud are facing a challenge of inefficient workload distribution. While using multiple cloud platforms and vendors provides a high degree of flexibility and scalability, it also makes it difficult to identify workloads that might be causing cloud waste.
CloudGenera provides you with critical insights to help you eliminate cloud waste and develop an efficient hybrid cloud strategy. The platform pulls data from a variety of sources through built-in integrations with popular discovery solutions (AWS Migration Evaluator, Flexera Foundations, Microsoft Movere, Google Stratazone). In addition to this, CloudGenera has developed ETLs (Extract, Transform and Load) for common data sources such as RVtools, ServiceNow, custom CMDBs/.xls, as well as an intuitive UI for manually entering application data.
Ensure efficient cloud usage by optimizing your workloads distribution, i.e. placing your applications in the most optimized cloud environments. Apply for our demo with CloudGenera today and ensure efficiency of your hybrid cloud strategies.
This demo will help you:
Evaluate workloads that might be costing you too much
Identify areas of your cloud spending that need to be optimized
Make data-driven workload placement decisions
Consider alternative platforms that better fit your apps
Ensure efficiency of your infrastructure
Security and Compliance in a Multi-Tenant Environment
With the cyber threat vector constantly growing, organizations are facing an increased pressure to protect their data. Shared cloud platform are often not considered secure enough for the most sensitive workloads due to the "noisy neighbor" problem and various misconceptions about the security of virtualized networks.
Data Security Cloud offers you a secure multi-tenant platform leveraging enterprise-grade security technologies to ensure multi-layered data protection. Through hardware-enhanced security, network micro-segmentation, strict network controls, integrated backups, managed detection and response, encryption key management, and advanced threat intelligence, Data Security Cloud provides you with robust mechanisms to fight cyber threats.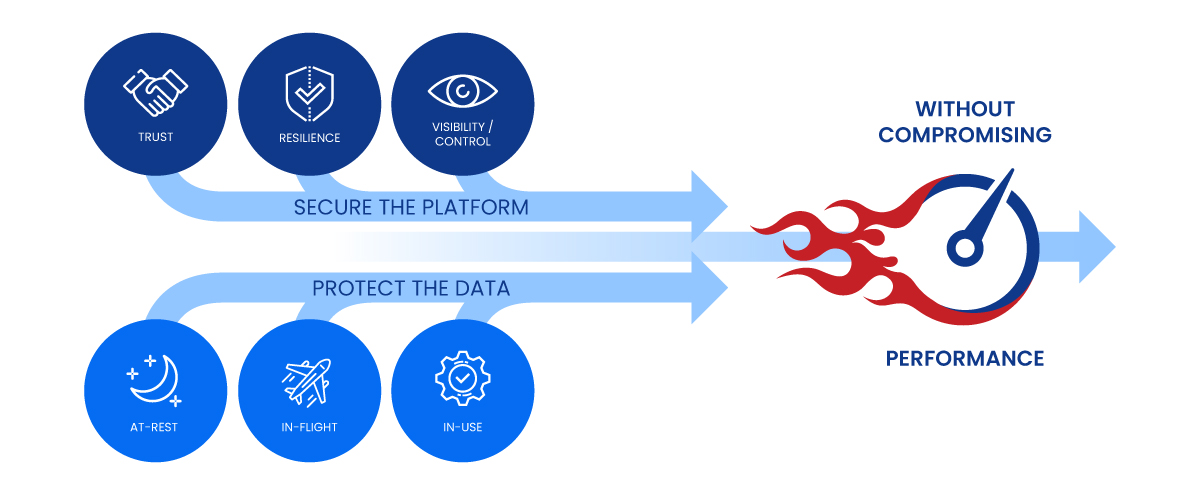 Choosing Bare Metal Cloud over Shared Environment
While multi-tenant cloud platforms offer a great degree of flexibility and scalability, they are not the best option for all types of applications. Data-intensive workloads such as multimedia, bioinformatics, HPC or AI/ML, as well as sensitive data might require dedicated environment.
phoenixNAP's Bare Metal Cloud platforms brings you raw power of dedicated servers with cloud-like flexibility!
As an automation-driven platform, it lets you spin up your server instances in a matter of minutes and scale as easily. Over 30+ pre-configured instances are available on an hourly or monthly billing model to support your cloud-native needs. You can deploy them using API or CLI and manage them as code using integrations with popular Infrastructure as Code tools.
Enjoy the flexibility of the cloud without "noisy neighbors" or vendor lock-in.
Bare Metal Cloud Use Cases
Production Workloads
Lower your TCO leveraging advanced system configurations that are available at a lower price point compared to Public Cloud.
Kubernetes Management
Have your Kubernetes clusters up and running in minutes with Bare Metal Cloud servers with pre-installed SUSE Rancher software.
Multi-Cloud Deployments
Leverage Bare Metal Cloud as part of your multi-cloud setting for workloads that require dedicated hardware or specialized configurations.
Global Burst Resources
Streamline workloads you did not anticipate by adding more CPU and RAM easily. Control burst resources usage across locations.
Get in Touch!
Feel free to reach out to us for any additional questions about our services or solutions.