GPU Dedicated Servers
Accelerate your workload with the power of dedicated servers & NVIDIA Tesla GPUs.
Harness the power of a modern deployment infrastructure leveraging the performance of world-class GPUs. Alongside Intel, NVIDIA, and SuperMicro, we have designed a cost-effective solution for parallel computing. Our design rivals any current system within the Artificial Intelligence, High-Performance Computing, Inference, and Big Data market space. Graphics Processing Units have become a core piece of Infrastructure-as-a-Service deployments. Combined with the raw processing power of
Dedicated Servers
, we have designed the most comprehensive solution that you have been waiting for. Tap into the future of computing power today.
Accelerate your computing.
Dominate your world.
The Next Generation of Processing Power
The ability to dream. The power to make it a reality.
Graphics Processing Units (GPUs) are the front-runners to support today's growing demand for infrastructure-parallel processing abilities. From Artificial Intelligence (AI), Machine Learning, Deep Learning, Big Data manipulation, 3D rendering, and even streaming, the needs for high-performance GPUs is undeniable. These types of workloads tend to overwhelm general purpose CPUs and create cost-prohibitive deployment scenarios. GPUs shine with the ability to harness multiple processing cores and scale to handle tremendous amounts of simultaneous instructions.
Accelerate your workloads, break compute barriers and deal with any data processing roadblocks leveraging raw power of dedicated NVIDIA Tesla V100 GPUs.
Scale your deployments across multiple nodes with flexible 1x to 3x Tesla V100 GPUs PCIe system, or 4x up to 8x Tesla V100 SXM2 interconnected with NVLink.
Deploying a GPU-supported infrastructure doesn't need to break the bank. Save on costs and control spending while maintaining access cutting-edge NVIDIA GPU technologies.
Power You Can Feel
All of the pieces you need. Together at last.
Large computational tasks of today are solved by software that is running on top of the most robust NVIDIA Tesla Volta and Pascal GPU architectures. The NVIDIA CUDA software platform offers tools to support developers, scientists, engineers and analysts through its wide array of libraries. The platform provides software libraries for Deep Learning (cuDNN, TensorRT, DeepStream SDK), Linear Algebra and Math (cuBLAS, CUDA Math Library, cuSPARSE, cuRAND, cuSOLVER, AmgX), Image and Video (cuFFT, NVIDIA Performance Primitives, NVIDIA Codec SDK), Parallel Algorithm Libraries (NCCL, nvGRAPH, Thrust) and many additional partner libraries.
With such a vibrant software ecosystem, alongside regular improvements, and in combination with the underlying power of Tesla Volta and Pascal GPU architectures, the NVIDIA CUDA platform has become a core component of infrastructure deployments. Such an implementation relies on parallel computing architectures to accomplish its computational goals.
The Best of Both Worlds
Dedicated server platforms with NVIDIA Tesla V100 GPU's in your data center.
The phoenixNAP dedicated server platform alongside CUDA-enabled NVIDIA Tesla V100 GPUs provides you with direct access to many auxiliary cloud services. These services can include and are not limited to globally scalable and security-focused cloud services, hybrid block storage, fully S3 API compatible object storage, colocation services, a global DDoS protected network and an extensive range of disaster recovery and backup services. At phoenixNAP, our IaaS offering supports a broad spectrum of industries and specific domains that are heavily dependent on access to globally scalable, reliable, high-performance and affordable infrastructure services.
---
Bioinformatics
Computational Chemistry
Computational Finance
Machine Learning
Data Science
Medical Imaging
---
Computational Fluid Dynamics
Computational Structural Mechanics
Electric Design Automation
Imaging and Computer Vision
Numerical Analytics
Weather and Climate
Access the Limitless Power of NVIDIA Tesla GPUs.
Data: The Answer You've Been Searching For
Harness the power of data. Accelerated computing with GPUs is the key.
Artificial Intelligence / Machine Learning / Deep Learning (AI/ML/DL)
Companies rely on artificial intelligence services to drive their competitive advantage. The ability to leverage AI for predictions, classifications and analytics make a significant difference for any business with access to large, complex and ever-growing data sources. Deep Learning training and inference is at the core of delivering such AI services. As Neural Networks become deeper and more complex they require more parallel-processing power, more memory bandwidth, and faster networks. These requirements are necessary to achieve reasonable training times along with fast-processing for inference of production workload deployments.
High-Performance Computing (HPC) / Big Data
Solving complex computational problems in a short amount of time, as well as dealing with large-size data sets and extreme amounts of continuously growing data, are challenges that are being tackled by parallel processing algorithms. Data center deployments with high-end NVIDIA Tesla GPUs enable computational, storage and network processing power to support such highly demanding workloads. Access to thousands of cores from each GPU with high-capacity network and high-IOPS (Input/Output Operations Per Second) storage allows for ideal infrastructure builds for HPC and Big Data application deployments alike.
Virtual Desktop Infrastructure (VDI) / Streaming / Rendering
Use cases that utilize a GPUs tremendous power and parallel processing include heavy rendering tasks, image manipulation, streaming for video and inference purposes, and the ability to provide secure, scalable anywhere/anytime access to applications, to name a few. These types of cloud deployments utilizing a GPU, combined with reliable network and fast NVMe/SSD storage, are able to provide economical, high-performance and agile solutions for companies that are looking to leverage the latest technologies to achieve its business objectives.
Artificial Intelligence
More Human Than Human.
Deep Learning has become a true enabler of AI services; in fact, it is the key driver behind today's entire field of AI and its real-life practical applications. Machine Learning business utilization and its ability to support business objectives have enabled AI services to take a seat at the company strategic table. From life and health sciences, through engineering and financial modeling, to natural language processing and image recognition, the employment of Deep Learning is growing exponentially each year. This growth in applications of AI services is primarily due to the infrastructure behind the curtain and its utilization of parallel computing with increasingly more advanced GPU technologies to enable such progress.
Deep Learning Training
Deep Learning Neural Networks are becoming continuously more complex. The number of layers and neurons in a Neural Network is growing significantly, which lowers productivity and increases costs. Deep Learning deployments leveraging GPUs drastically reduce the size of the hardware deployments, increase scalability, dramatically reduce the training and ROI times and lower the overall deployment TCO.
Deep Learning Inference
Trained Neural Networks are deployed for inference in production environments. Their task is to recognize spoken words, images, predict patterns etc. Just like during training, speed is of utmost importance especially when a workload deals with "live predictions." Besides processing speeds; throughput, latency, and network reliability also play a vital role. Deployment of GPUs in the cloud is the solution.
Access Massive GPU Processing Power Globally in the Cloud.
Future Technology Advancements
Design your future with Artificial Intelligence and Deep Learning.
For Deep Learning to take full advantage of the GPU hardware architecture and acceleration, there needs to be an "easy" way to allow algorithms to leverage, scale and consume underlying infrastructure. Deep Learning frameworks represent and combine such sets of tools, interfaces, and libraries, which allow data scientists, engineers, and developers to build, deploy and manage their training models and networks. They are the building blocks of modern Deep Learning deployments. Today, the most popular Deep Learning Frameworks include, but are not limited to Tensorflow, Keras, Caffe 2, Pytorch, Theano, Chainer, CNTK, and MXNET. Each of these frameworks is built in a different manner and serves different purposes.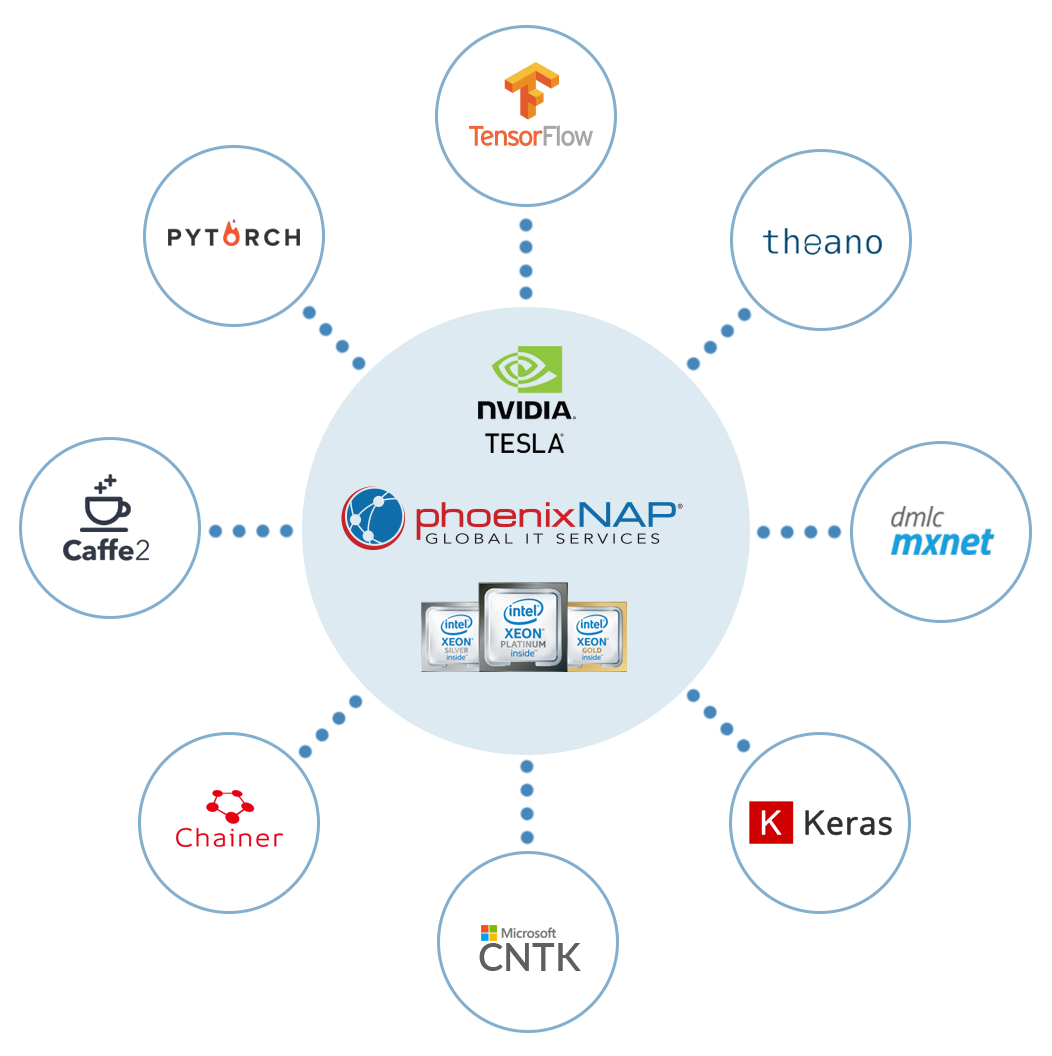 Power Meets Performance
Industry titans unite. The possibilities are endless.
At phoenixNAP, our GPU-ready systems enable your business with a full Opex access to the latest NVIDIA GPU architectures, from small deployments with PCIe interface from 1x to 3x Tesla V100. Build-your-own "DGX-1 like" systems with 4x or 8x NVIDIA Tesla V100 with NVLink interconnection getting access to a massive amount of deep learning compute power. With up to 128 GB HBM2, 40960 CUDA cores and a whopping 1 PFLOP=1000 TFLOPS (tensor performance – mixed precision FP16/FP32), or 125 TFLOPs (FP32 – single precision performance) of computational power supported by a reliable phoenixNAP 10Gbps network. Combined with latest Intel Xeon Scalable processors and massive amounts of DDR4 RAM, access to fast NVMe and SSD storage you will have a world-class parallel computing behemoth at your command without breaking the bank.
NVIDIA Volta GPU architecture
14 TeraFLOPS single-precision performance
112 TeraFLOPS Tensor performance (mixed precision)
5120 CUDA cores
640 Tensor cores
16 GB HBM2 Memory
Memory bandwidth 900 GB/s
Interconnect bandwidth 32 GB/s (Bi-Directional)
PCIe 3.0 interface
NVIDIA Tesla V100 (SXM2 – NVLink)
NVIDIA Volta GPU architecture
15.7 TeraFLOPS single-precision performance
125 TeraFLOPS Tensor performance (mixed precision)
5120 CUDA cores
640 Tensor cores
16 GB HBM2 Memory
Memory bandwidth 900 GB/s
Interconnect bandwidth 300 GB/s (Bi-Directional)
NVLink interface
Modern GPU Server Platforms Within Reach
Focus on your business goals. Leave the cloud services to us.
Gain access to phoenixNAP's entire IaaS platform: dedicated servers, cloud solutions, security services, hybrid block storage and fully S3 compatible object storage to
Disaster Recovery
& Backup Services.
Don't settle for anything less than fully dedicated GPUs physically attached to your servers. No virtualization; no shared resources. Full access to maximum NVIDIA Tesla GPU power and architectures.
Access the most powerful GPU infrastructure with complete Capex avoidance, no upfront investments, and zero complications. Focus on developing your business and improving your bottom line.
phoenixNAP Global IT Services. Reliability and a guaranteed peace of mind.
---
Global Locations throughout the United States, Europe, and Asia PAC
Backup, Recovery and DRaaS Options
Security Services and Compliance Focus
Broad Cloud Services Portfolio
---
24/7 Infrastructure Monitoring
100% Network Uptime Guarantee
Industry-Leading SLA
Colocation and Hardware Leasing Options
Staying competitive in today's market is not an easy task for any business. Accessing the newest technologies and contending in a global space traditionally comes at a massive investment cost, but today it can be easily avoided. Ability to leverage innovative computing infrastructure and solutions with quick scalability, while competing on a global market will give an edge to any business. At phoenixNAP, we can help. We specialize in enabling businesses with global access through our strategic locations and bleeding-edge technologies while you operate locally and avoid capital investments. Global IT Services is what we do best: what is your specialty?
Supercharging Data Center Workloads
The power you need. The technology to make it possible.
Data centers are the foundation for cloud computing and its drive behind enabling business agility and accelerating time-to-market. Modern data center workloads are extremely compute intensive, as they are required to manipulate tremendous amounts of data. Growing global markets and an increasingly more connected world, demand more power, more speed and quicker response times. The amount of data we produce continues to grow exponentially as well as the need for its strategic use. The use cases for accelerated computing can be found in nearly all industries from artificial intelligence and scientific research to image and video rendering. Dedicated servers with Graphics Processing Units offer the raw processing power to handle the most advanced workloads in the cloud today.