Global Infrastructure-as-a-Service (IaaS) Provider
Bringing you IT Performance, Security, and Scalability On Demand
Leverage Premier IaaS Solutions
phoenixNAP's global Infrastructure-as-a-Service (IaaS) platform enables on-demand consumption of compute, storage, and network resources. Get instant access to enterprise-grade tech on scale and optimize your IT costs. Our colocation, hardware-as-a-service (HaaS), dedicated servers, cloud, backup, DRaaS, and security solutions let you build a reliable IT platform without capex investments.

Local Access. Global Reach
6 data centers and 10 network PoPs in the U.S., Europe, Asia-Pacific, and Latin America
Solutions for any IT need
Choose from our wide portfolio of solutions to solve your IT challenges without capex costs.

Personalized Approach
Your needs are unique and our wide portfolio of solutions can be customized to meet them.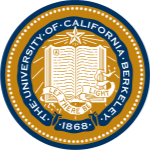 "From phoenixNAP's cloud solution to its customer support right on down to its billing department; we've received the best experience as we provide a better learning environment for both professors and students."
– Ryan Lovett, Systems Manager, UC Berkeley Department of Statistics
What is an IaaS Provider?
Infrastructure-as-a-Service (IaaS) is one of the three core cloud computing delivery models. Just like Software-as-a-Service (SaaS) and Platform-as-a-Service (PaaS), IaaS is billed as a utility on a per-use basis, enabling you to harness the power of enterprise-grade technology without having to buy and manage physical hardware.
An IaaS provider is a company delivers infrastructure resources on the on-demand model. Instead of building your own on-premises infrastructure, you can leverage such a provider to realize all the benefits of IaaS. These solutions let you can tap into the unrestricted scalability potential and realize considerable IT cost savings. Depending on a provider, you will have different options regarding platform performance, availability, and security.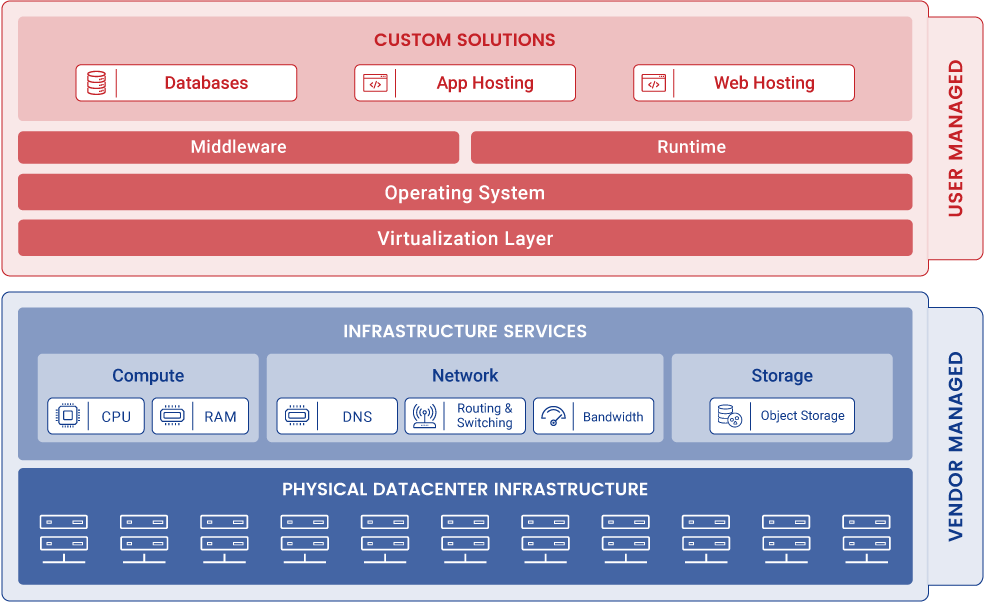 How you benefit from IaaS?
The possibility to host services and infrastructure remotely revolutionized the way business is done in the 21st century. Cloud computing made it possible to deliver enterprise-grade technologies at an affordable price point so that every business could get access to them.
IaaS Benefits and Advantages

Cost-efficiency
One of the key advantages of the IaaS model compared to traditional IT its affordability. By eliminating the need to buy and manage hardware, and by allowing for pay-per-use pricing, IaaS brings significant IT cost savings.

Scalability
Another important concept related to IaaS and cloud computing in general is scalability. With compute, network, and storage resources being delivered on-demand, companies can easily upgrade and downgrade resources as they need.

Innovation and Agility
The IaaS is a dynamic market driven by innovation. Organizations that leverage IaaS get access to cutting-edge technologies and can adapt to the changing market needs more easily. Its scalability and cost-efficiency also support agile business models.
IaaS Use Cases and Business Scenarios
Eliminating the costs and complexity of managing a physical infrastructure, IaaS helps organizations reach their full potential. Where traditional infrastructure causes bottlenecks, IaaS brings ease of use, cost-efficiency, agility, and flexibility.
Reliable tech. Reliable provider.
Reliable cornerstone for your business.
phoenixNAP IaaS Solutions Portfolio
Headquartered in Phoenix, Arizona, phoenixNAP is a global IaaS provider with data centers and network Points of Presence (PoP) on 16 strategic global locations. Our wide portfolio of solutions is designed to support even the most sophisticated business needs. Through cutting-edge technologies, personalized approach, and expert support, we help you improve productivity, security, and stability of your business.
Leverage trusted technologies to build a custom IT platform and power up your organization with modern IT resources. Our solutions are meant to complement your in-house IT by providing you the necessary tools and systems on-demand.
Independent of your location, if your customers and users are globally based, your infrastructure should be, too. We offer a full portfolio of IT services in each geo-diverse phoenixNAP location to securely connect, backup, and deploy your environment across multiple locations. By leveraging our global data center footprint, you can get closer to your users and deliver less latency, and the localized experience they demand.
With 2.35+ Tbps connectivity between data centers in the U.S., Europe, Asia-Pacific, and Latin America, multiple 10Gbps transit connections, and comprehensive carrier network, phoenixNAP delivers premium service.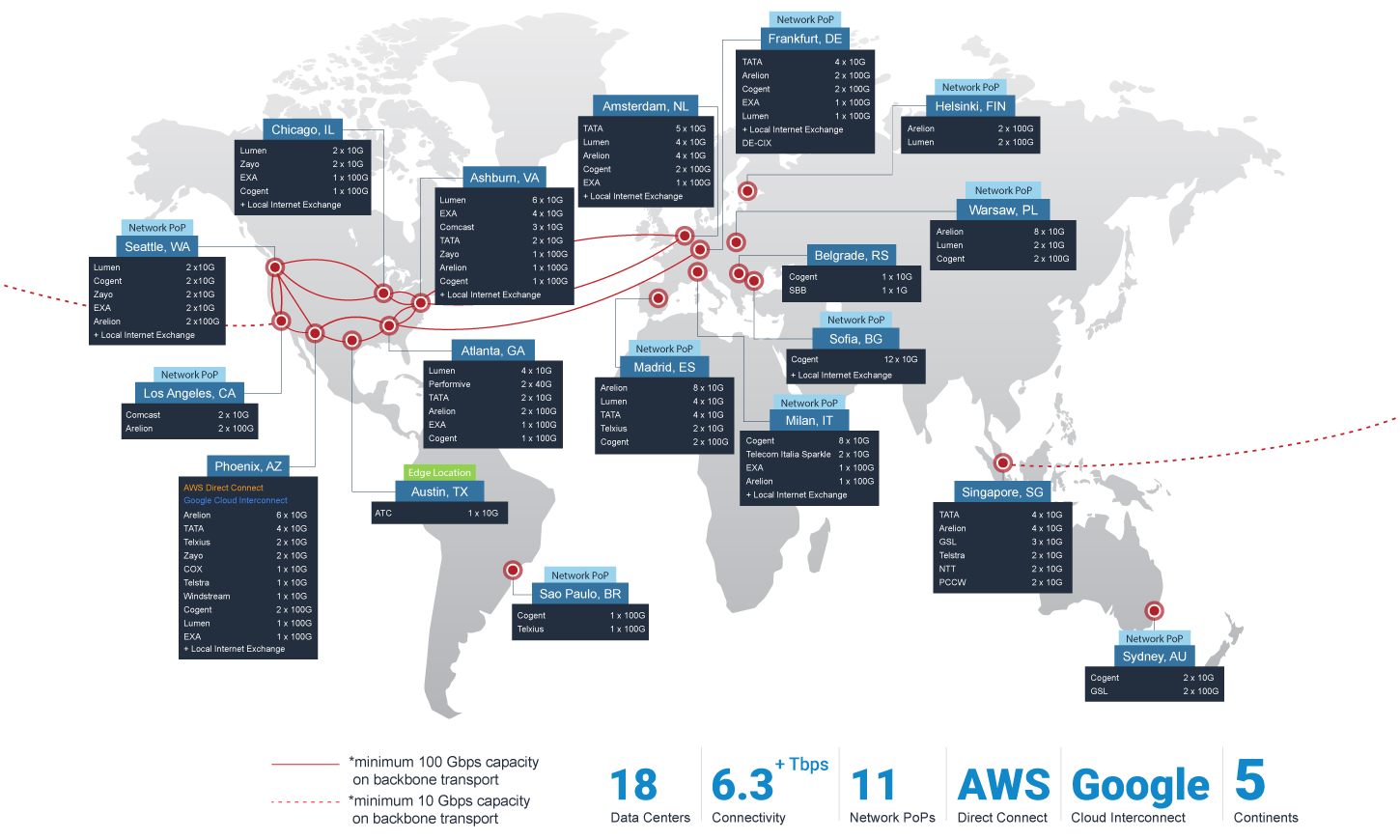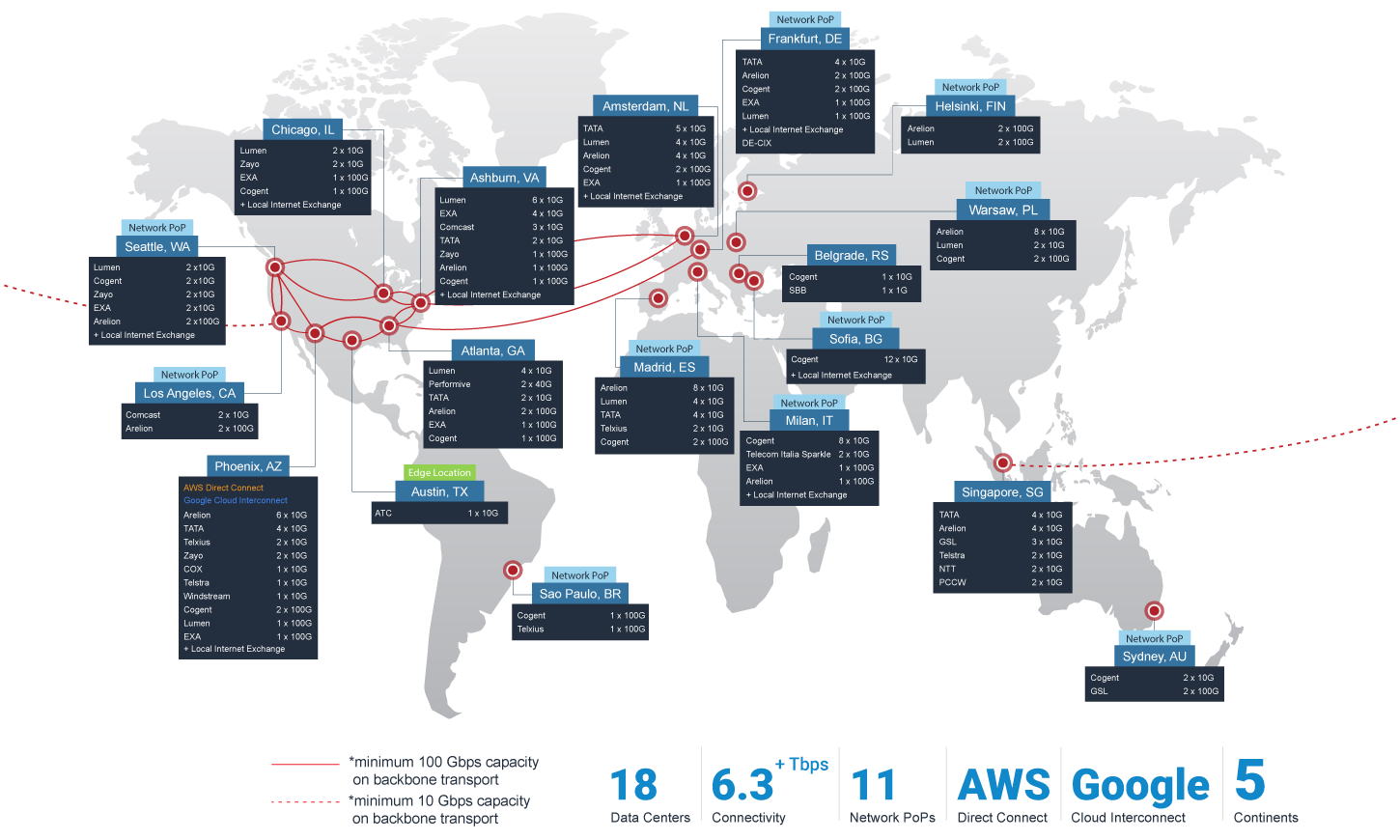 phoenixNAP works closely with the world's leading technology vendors to deliver next gen solutions and build custom platform that meet the sophisticated IT needs. We believe that by building specialized solutions we can better address the specific challenges your organization is facing. Compared to hyperscale cloud providers, we are focused on an individual organization and its unique requirements.
Understanding the complexity of modern IT decision-making, our team works with you to identify your challenges and tailor a solution just for you. Our ultimate aim is to understand your goals and provide you with solutions that will get you there.
Looking for an IaaS solution?
Get in touch with us and let's see how we can help you meet your goals.