Ransomware Protection Services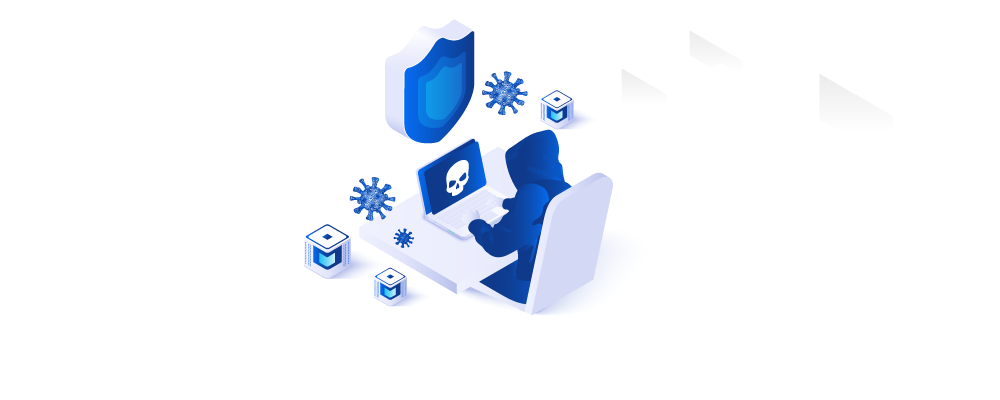 Protect Against Ransomware. Ensure business operability.
Ransomware attacks hit every 11 seconds. You need to keep your data safe 24/7 to eliminate the risk of data loss. phoenixNAP offers you a range of cloud-based solutions you can deploy to ensure data availability and business continuity. There are several reasons why ransomware protection should be on top of your priority list.
Ransomware growth rates are alarming.
Homeland Security recently stated that the number of ransomware attacks in the U.S. rose more than 300% in 2020, and the predictions are that the growth will resume in 2021.
The financial impact is devastating.
A single minute of IT downtime can cost up to $5600.The total ransomware damage can go up to a staggering $1,86 million, causing significant financial and reputational damage.
Ransomware insurance is changing.
Insurance companies are now limiting the coverage and may refuse to pay the premium for the exploit if security best practices, including backup strategy, were not followed.
What is Ransomware?
Ransomware is a form of extremely harmful malware that infects network devices and data centers. Cybercriminals seek to exploit system and security vulnerabilities to gain access to your business' data, encrypt it, and demand payments to make it accessible again.
Over the years, ransomware has significantly grown in volume, frequency, and strength. The complexity and sophistication of recent attacks show that outright ransomware prevention is impossible. To stay protected and mitigate growing ransomware threats, it's vital for organizations to continuously evaluate and deploy advanced security solutions and implement best practices to prevent being hit.
Ransomware Impact on Business
The ransomware produces devastating effects on businesses. Organizations that suffer a ransomware attack experience disrupted business operations, data loss, downtime, and significant financial damages.
The sharp increase in the number of high-impact incidents underscores the importance of providing robust protection to your business-critical systems, workloads, and data in avoiding fierce ransomware consequences. Below you can see a complete list of negative effects ransomware can cause to organizations.
phoenIxNAP Ransomware Protection Solutions
Veeam Backups
Eliminate IT environment downtime and ensure always-on access to your critical data. Veeam Cloud Connect Backup and Replication enables you to store your backups safely and restore them quickly at any time. Immutable backup functionality helps your business to bulletproof its protection against ransomware.
Disaster Recovery
Deploy the most robust and cost-efficient disaster recovery solutions to ensure near-instant recovery of your environment. phoenixNAP offers Veeam, VMware, and Zerto disaster recovery solutions from multiple strategic locations across the globe. Talk to our solution experts to deploy the right solution.
Data Security Cloud
As a secure multi-tenant cloud platform, Data Security Cloud provides multiple layers of security to ensure maximum data protection. Built-in collaboration with Intel and VMware, Data Security Cloud includes advanced security features to ensure high performance and superior protection for workloads and data.
Deploy reliable solutions built upon cutting-edge technologies to defend your business against ransomware and ensure that your backup, recovery, and compliance needs are met.
Best Practices for Protection
Considering the possible impact of ransomware, companies need to deploy multiple levels of protection to ensure the safety of their data. This is particularly important for organizations operating under strict compliance and security regulations, where the risk of data loss should be brought to a minimum.
As paying the ransom doesn't guarantee that the encrypted data will be released, companies must focus their efforts on building a ransomware-resilient environment. This environment protects their critical infrastructure, keeps their backup files safely stored in a pristine state, and ensures quick operations recovery when an attack occurs.
Below are several important steps you need to take in order to ensure security.
Infrastructure Security
Data protection starts at the core. Your infrastructure should be able to resist the attack using secure hardware, network micro-segmentation, end-point protection, and threat intelligence. You need visibility into your environment at all times to identify the attack early and contain it on time.
Immutable Backups
Today's ransom attacks are targeting backups to disable recovery. Deleting or encrypting backup files could paralyze the business and its ability to recover. Using the Veeam Cloud Connect immutability feature, you can deploy a secondary, immutable copy of your backup to ensure advanced availability.
Disaster Recovery as a Service
Disaster Recovery as a Service (DRaaS) helps you ensure the availability of your data by replicating it to secure cloud environments. Depending on your RTO and RPO goals, you should set up full or partial replication to be able to restore your data quickly in case of an attack or disaster.
Ultimate Ransomware Survival Guide
Watch our webinar with Veeam to learn more about advanced cyber threats and how to successfully protect your business from growing ransomware threats. In this session, William Bell, EVP of Products at phoenixNAP, and Michael Deemer, Inside Systems at Veeam, shared practical tips on how to implement efficient ransomware prevention strategies and tactics.
Learn More About Ransomware
Visit our blog to discover more about ransomware and its ever-evolving landscape, including the latest trends, stats, and facts. You can also explore our blog to learn about solutions, technologies, and best practices that you can implement to prevent ransomware, protect your critical data assets, and mitigate its harmful impact.
Get in Touch!
Get in touch with our experts and start building your ransomware protection strategy today!